The Snohomish Homeowner's Guide to Building A Deck
So you have decided to build a deck–congratulations! A new deck can add value to your property and brings out the character of your home. We've helped Snohomish County homeowners build their dream deck and we know the ins and outs of every step. Before you break ground on your new deck, there are a few factors to consider so that you can stay on track and on budget.  
Choosing a unique deck design is definitely the most fun part of the deck building process!
There are countless colors, decking materials, railings and styles to choose from. 
With so many options available you may wonder which style is right for your home. Consider the color of your home and your surrounding environment. Are you surrounded by a forest? Is your landscaping thick with foliage? Cedar decks look stunning with homes that are surrounded by a lot of trees.
Does your home have a modern or contemporary appearance? You may want to consider the sleek and stylish look of vinyl decking coupled with cable railing.
Whether you know exactly what you want or you're still looking for that perfect deck design, our team can help you realize your dream deck. All of our decks are completely custom. The deck we build for you will be truly one of a kind! Our on-staff architect will work with you to understand your preferences and share our ideas for what we think will compliment your home.
How To Know When Permits Are Needed To Build A Deck
Depending on your city's building codes, you may or may not need a permit to build a deck. In general, Snohomish County requires a permit if your new deck meets any of the following criteria:
The surface of the deck is more than 30 inches above the ground.

The deck will be built over a basement or any story below.
There may be other factors to consider, such as specifications for homes or properties that must meet accessibility requirements.
Navigating the deck permit process can be daunting for homeowners, which is why our team handles every step of the permitting process. Once you've chosen a deck design and approved our plans for your custom deck, we'll handle all of the paperwork and trips to the city permitting office so that you can focus on all of the fun details of your new deck project. 
Consider How You Will Remove Your Existing Deck
If your new deck project will involve removing an existing deck, you should carefully consider all of your options. While there are some tools available to homeowners to remove deck boards, we do not advise trying to dismantle an entire deck on your own. You could damage the foundation or put yourself in danger!
Leave deck removal to the professionals. While you might assume every deck builder offers demolition and removal services, you may be surprised to learn that most deck contractors either subcontract deck removals, or simply will not offer the service at all. There are several reasons for this, including the cost of demolition equipment, insurance and the logistics of having a general contractor on staff.
Homeowners often report that the most frustrating part of a deck construction project is coordinating the many contractors and services just to break ground! That's why we do everything in house, without subcontractors. NW Pearl is a full service deck builder and general contractor, so we can remove your existing deck and build a new one with the same trusted team of professionals.
When you hire NW Pearl, you can rest assured the crew that shows up to your home is one of our own, and will provide the highest level of quality service. 
Prepping Your Yard For Deck Installation
For homes that do not already have a deck, you will need to find out where utilities and other underground services are located on your property. A deck can be built around certain utilities, but understanding where they are buried is critical before you start digging post holes or laying foundation.
If you are unsure of who to call to locate utilities and underground services on your property, we will be happy to assist. We will have all of your services located before we start the deck design process, so that we can know exactly what our opportunities are for your custom deck. We work quickly on these initial set up and research steps so that you can get to the fun part–designing your deck!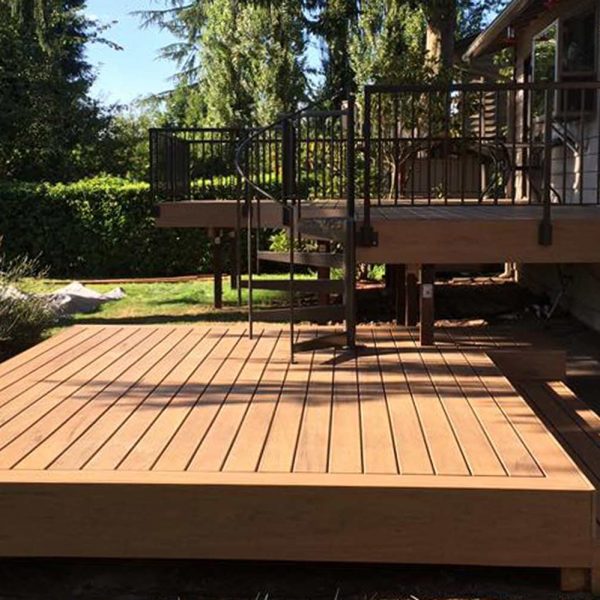 Create a Deck Maintenance Plan
There may be some guidelines to follow in the days immediately after completion of your deck. This is especially important for cedar or wooden decks that may be treated and sealed. Our team will provide you with a comprehensive guide to caring for your deck, including instructions for when you can start using your deck, and how often you will need to maintain it throughout the year.
Low maintenance materials such as vinyl decking or composite decking generally require very little upkeep and only need to be rinsed off or swept as needed to keep debris from settling.
Cedar or other wood decks require a bit more maintenance. Depending on the stain used, if the deck is painted, and other environmental factors will all need to be accounted for in your unique deck maintenance plan.
We understand that your deck is a significant investment, and we'll make sure you know all of our trusted tips to get the most out of your deck and keep it looking incredible for years to come.
Ready to get started on your dream deck? NW Pearl offers complimentary quotes for new deck projects. Contact us today to book your new deck consultation.